Dr. Jeffrey Boeckman is Director of Bands and Professor of Music at the University of Hawai'i, Mānoa. He conducts the Wind Ensemble, teaches courses in conducting and wind literature, and oversees the entire UH Bands program. In the first years under his direction, the UH Bands have embarked on an ambitious agenda of programming, commissioning, touring, and professional development, including the development of an MM Conducting degree program, collaborations with guest artists, the UH Conductors Workshop, and a composer residency program, all with the goal of developing the UH Bands into a national and international-profile band program.
Dr. Boeckman has served as guest conductor with the Hawai'i Symphony Orchestra and Chamber Music Hawai'i, and has conducted both the O'ahu Band Director Association and Central District Honor Groups. He has served as a conductor, adjudicator, and clinician across the US and internationally. Ensembles under his direction have performed at such venues as the W/NW CBDNA conference, California, Hawai'i, and Texas MEA conferences, and throughout North America and Europe. His scholarly work has been presented at the World Association of Symphonic Bands and Ensembles (WASBE) International Conference, College Band Directors National Association (CBDNA) National Conference, and the California & Hawai'i Music Educators Association State Conferences, and has been published in the Music Educators Journal and the Journal of Band Research. His book, A Counterpoint of Characters: the Music of Michael Colgrass, was published by VDM Verlag.
Prior to this appointment, Dr. Boeckman held positions at California State University-San Bernardino (where he founded the Inland Empire Youth Wind Symphony), Texas A&M University-Commerce, and Roanoke College. He also directed the bands and orchestra program at Shasta High School in Northern California, and served as conductor of the Redding Symphony Youth Orchestra and guest conductor for the Redding Symphony Orchestra.
Dr. Boeckman holds degrees from the University of California at Berkeley, the University of Arizona, and the University of Wisconsin-Madison. His principal conducting teachers include Michael Senturia, Gregg Hanson, and James Smith.
Dr. Adam Kehl serves as Associate Director of Bands, Assistant Professor of Music at the University of Hawai'i at Manoa, where he conducts the symphonic band and concert band, directs the Rainbow Warrior Marching Band, and teaches courses in music education. He previously served as Director of Bands at Elon University in Elon, NC, conducting the wind ensemble and chamber winds, directing the marching and basketball bands, teaching courses in music education and advising undergraduate research projects. Originally from the Pacific Northwest, Dr. Kehl holds Bachelor of Music degrees in Music Education and Percussion Performance from the University of Oregon, a Master of Music in conducting from the University of New Mexico, and a Doctorate of Musical Arts in conducting from the University of South Carolina. He previously served as a high school band director in the public schools of California and is highly active as a clinician, adjudicator, guest conductor and music arranger for concert and marching bands around the United States.
Dr. Kehl has completed three musical tours abroad, including tours in China and Italy, and served as an Associate Producer on the USC Wind Ensemble's critically acclaimed "Bernstein: The Transcriptions for Wind Band" for Naxos Records. He maintains an active research agenda in two areas. His primary research focuses on the creation of historically accurate critical editions, for the purpose of modern performance, of wind music from the French Revolution (1789-1799). Three of his editions from composers Gossec, Catel and Hyacinthe Jadin are published and available from Maxime's Music (concertbandmusicstore.com). Dr. Kehl recently presented sessions at the Hawai'i, Maryland and New Jersey Music Educators Association State Conventions on his secondary research interest, Laban Movement Analysis and its usage in conducting pedagogy, score study and ensemble rehearsals.
A keen advocate for new music, media integration, creative programming and inter-arts collaboration, some of Dr. Kehl's recent projects include, "A Little Song and Dance," a collaboration with the Elon Dance Program, and "Mozart in Popular Culture," an exploration of the use of Mozart's "Gran Partita" in television and film. He has worked with such guests artists as Dr. David Constantine from the US "Presidents Own" Marine Band, Dr. Nave Graham, founding member of the All of the Above Ensemble, Lynn and Dr. John Beck, and Elon University President Dr. Leo Lambert. Dr. Kehl is actively involved in bringing new works to life through commissioning and conducting premieres, including works by Donald Grantham, Kevin Walczyk, David Clay Mettens, Carter Pann, Adrienne Albert, Todd Coleman, Ted King-Smith, David Kirkland Garner, Nick Omiccioli, and Aaron Perrine.
Dr. Kehl holds memberships in the College Band Directors National Association, National Band Association, and NAfME.
Gwen Nakamura is Assistant Band Director, Assistant Director of the Marching Band and Director of the Concert Band at the University of Hawai'i. She received her Bachelor of Education in Music and Master of Arts in Music Education from the University of Hawai'i. She conducts and writes shows for the Marching Band and is the conductor of the Pep Bands.
Ms. Nakamura is an accomplished saxophonist and bassoonist and has taught applied music for the University of Hawai'i on the saxophone. She has many secondary students on both the saxophone and bassoon. Before coming to the University, she led successful band programs at Castle High School and Kahuku High School.
Her professional affiliations include the National Band Association, Music Educators National Conference, Hawai'i Music Educators Association, and the College Band Directors National Association.
Dean Taba is a freelance bassist, composer, producer, and educator living in Honolulu, HI. He began his musical studies on the piano at the age of 6 and played french horn in the Hawaii Youth Symphony. It was a desire to play in the high school jazz band that introduced him to the bass and improvised music.
After studying at the Berklee College of Music in Boston, Dean moved in 1984 to Los Angeles to further refine his skills on both the Acoustic and Electric bass. For 20 years, Dean worked in the studios of LA with his musical heroes, mentors, and contemporaries recording countless albums, TV shows, jingles, movies, and video game soundtracks. He was even instrumental in creating Trilian, an award winning Virtual Instrument. In spite of a very busy recording and touring schedule, Dean made time to teach at The Dick Grove School of Music, Musician's Institute, and the Los Angeles Music Academy, as well as recording three of his own albums.
He is now back home in Palolo Valley performing, teaching, recording, and producing some of Hawai'i's most influential and innovative artists. And he is very excited to be director of the Hawai'i Youth Symphony Combo and the Jazz Band of The University of Hawai'i at Manoa.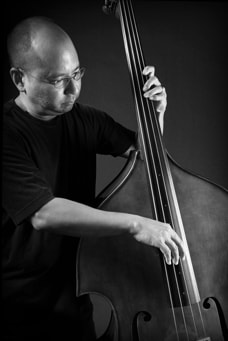 Dean Taba
Jazz Ensemble Director
Justin Woo serves as the Director of Operations for the University of Hawaiʻi Bands. He is a recent graduate of the University of Hawaiʻi at Mānoa and holds a Bachelors Degree in Psychology. While at UH Mānoa, he served as the student manager and had played clarinet, bass clarinet and alto saxophone within the UH Band program. As the Director of Operations for the UH Bands, he runs daily operations of the band. His duties includes overseeing undergraduate equipment staff, event logistics and many other duties that keep the UH Bands program running smoothly. Aside from his duties at UH Justin serves as an Operations Assistant for the Hawaiʻi Youth Symphony, marching band technician for the Punahou Schools marching band and a member of the National Association of Professional Band Instrument Repair Technicians (NAPBIRT).
Sean Mitchell is the Drumline Director and Arranger for the University of Hawai`i Rainbow Marching Band. Born and Raised on Oahu, he started playing drums in 2005 at `Iolani School where he performed in the Stage Band, Concert Band, Marching Band, Concert Orchestra and Fall Musical Pit Orchestra. After high school, Sean attended the University of Hawaii at Mānoa where he participated in the Jazz Band and Drumline. He started as a Drumline Instructor and Arranger in 2013 working with many local high schools, including `Iolani, Punahou, Radford, Roosevelt and Mililani. Sean is currently working with Mililani High School as their Battery Instructor. He is eager to raise the standard for Drumlines here in Hawai`i.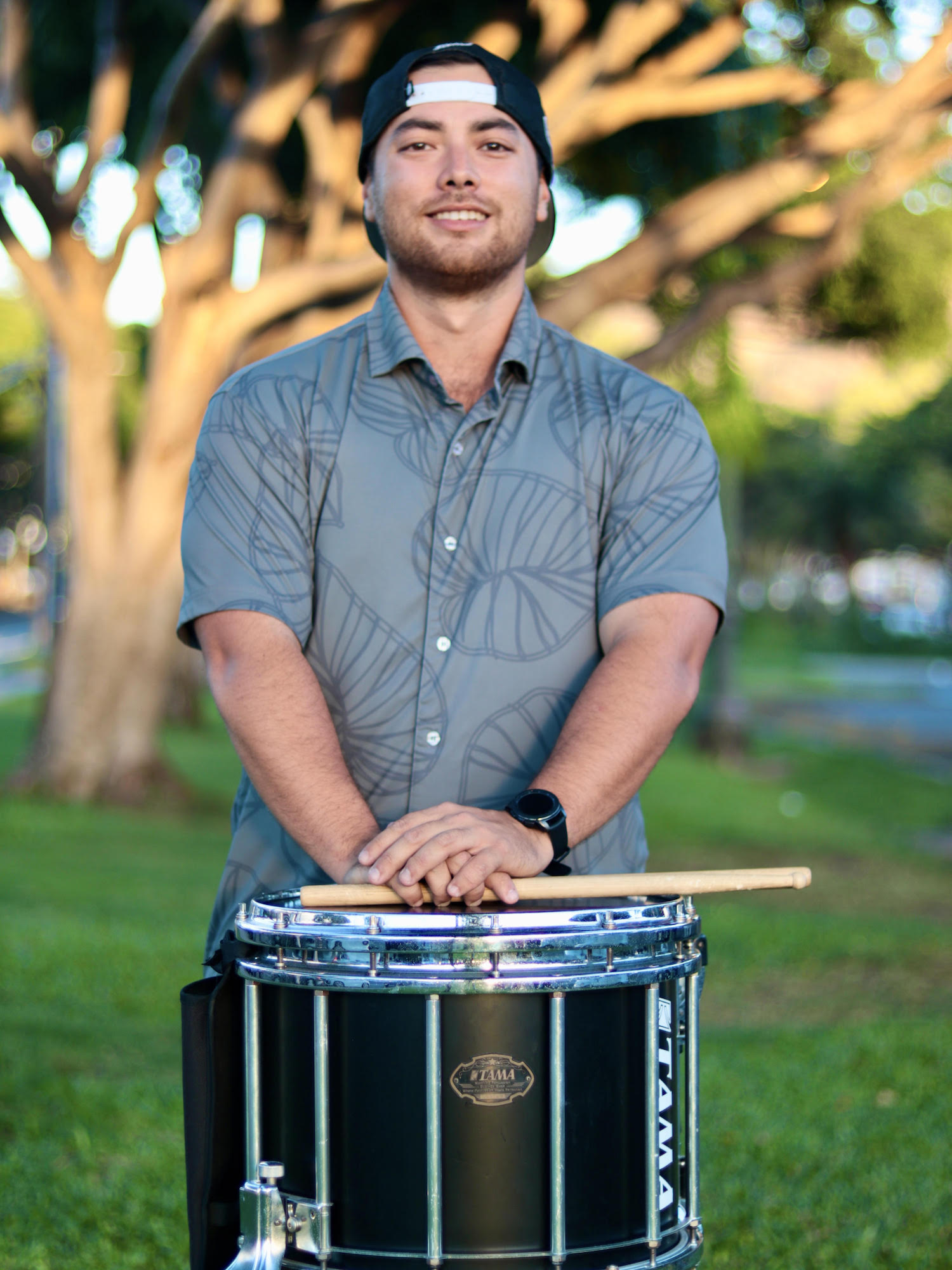 Sean Mitchell
DrumlineDirector
Robert King is a graduate of Saint Louis High School where he was the Drum Major of his marching band. Robert learned how to spin his mace and learned spinning techniques with the Colorguard thus beginning his interest in the activity. At UH, Robert King was a member of the front ensemble for 2 years before making the switch to the Colorguard. In the Summer he marched with the 2-time DCI World Champion Madison Scouts. When he returned to Hawaii he began to work with various schools such as Saint Louis High School, Iolani School, University of Hawaii, Kamehameha School, Maui High School, Roosevelt High School, and Moanalua High School.
He has become a known clinician and adjudicator in the Colorguard world of Hawaii and has run clinics on behalf of the University of Hawaii for visiting schools from the mainland. Robert has also created and formed the first Independent Winterguard under Team New Era Winterguard and Kaikalino Winterguard giving students from various schools a chance to perform during the spring semester and keep in shape. Under his various programs his students have gone on to excel in the Colorguard world marching with Drum and Bugle Corps groups like the Mandarins, Santa Clara Vanguard Cadets, Santa Clara Vanguard, Blue Stars, Bluecoats, The Blue Devils, and The Phantom Regiment.  Robert, is currently working with Moanalua High School and the advisor of the University of Hawaii Colorguard.
Cara Horide was born and raised here on the island of Oahu. She began dancing at the age of 9 with Drill Team Hawaii, then joined 24/7 Danceforce   while attending Castle Performing Arts High School in Kaneohe. Continuing thru college, she led the University of Hawaii Rainbow Warrior Dancers from 2004-2005 as Captain. But the calling to pursue this art form as a career path became clear, so she moved to Los Angeles, and found a family with a group of misfits who became known as Fanny Pak. This crew went on to compete on MTV's America's Best Dance Crew for both Seasons 2 and 7, touring and teaching both nationally and internationally.
She continued to make waves in the industry, performing and choreographing for artists and productions such as Janet Jackson, Nicki Minaj, Avril Lavigne, Ciraue du Soleil, Alvin and the Chipmunks, So You Think You Can Dance, Disney, Nickelodeon, and more. After nearly 10 years, she chose to return home to raise her family, and groom the next generation of bright eyed and bushy tailed movement makers. This is her third year as Coach for UHRWD, and she intends to make this the best yet. Go Bows!
Cara Horibe
Rainbow Dance Director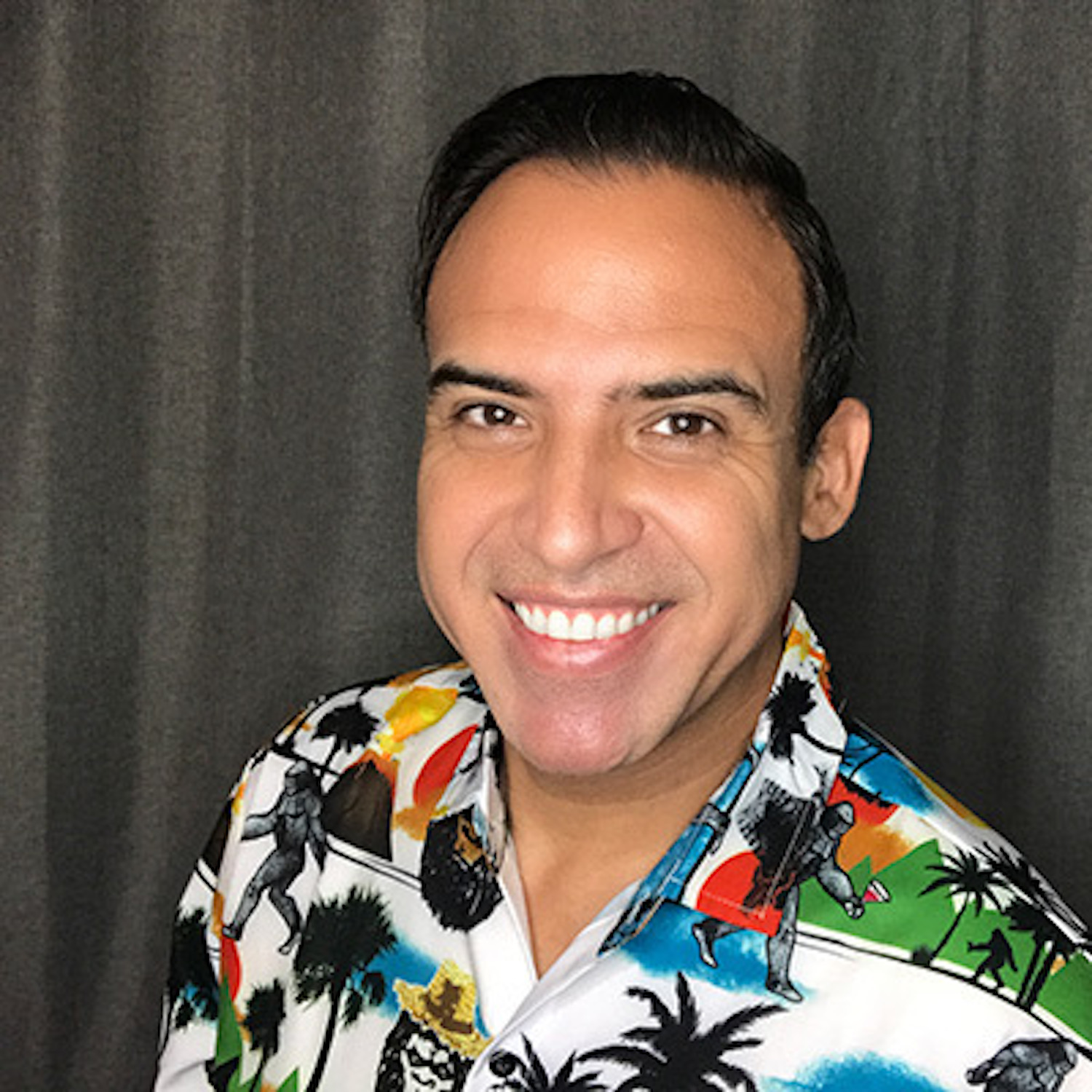 Mr. Fernando Pacheco
Announcer
Fernando Pacheco is a proud alumnus of the University of Hawaii at Manoa and has been the voice of the Marching Band since 2016. 
The former tuba player began entertaining radio listeners in 2001, hosting various programs on Star 101.9 KUCD-FM and 105.9 KPOI-FM. Pacheco also produced and hosted his own television show, "Almost Local" on Time Warner Cable's OC16. 
Aside from his work with the University of Hawaii "Rainbow Warrior" Marching Band, he currently hosts the Ka Moana Luau and serves as a Communication Specialist for Hawaiian Airlines.