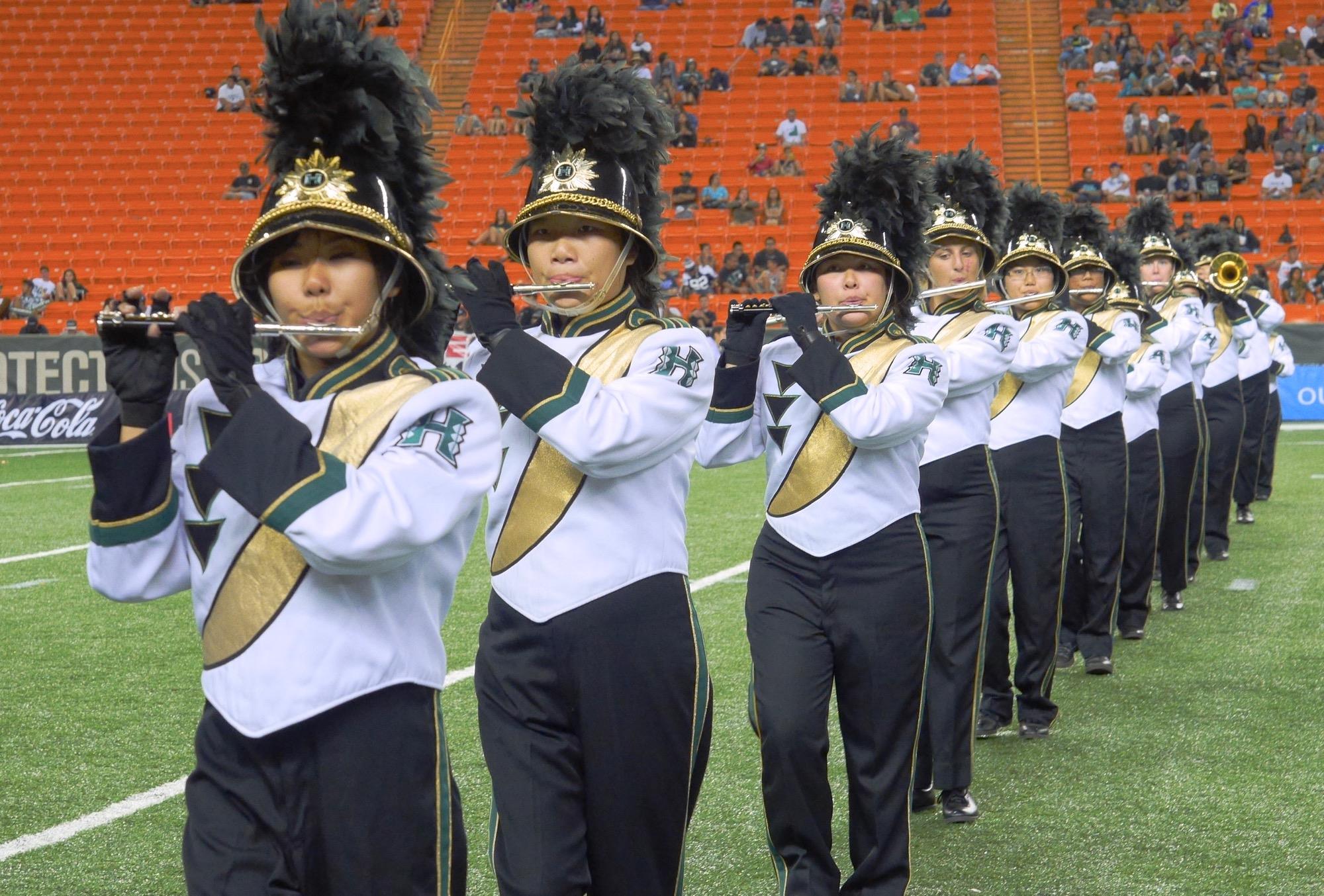 The University of Hawai'i Bands include some 300+ students, performing in the 250-member UH Rainbow Warrior Marching Band, three concert bands, and five pep bands. These students entertain over 400,000 spectators annually at football, basketball, & volleyball games, concerts and campus events – over one hundred performances every year!
As the most visible student organization on campus, the UH Bands afford all students the opportunity to participate in an activity central to the Department of Music, the University, and the state of Hawai­'i. Open to all majors on campus, the University of Hawai­'i Bands provide a home for you filled with tradition, pride, performance excellence, and most importantly, aloha spirit!

Wind bands at UH can be traced back to 1923 when an eighteen-member drum and bugle corps was organized; it soon expanded to a twenty-six-member extracurricular band by adding woodwinds and more brass. In the 1920s and 30s, a music department had not yet been established at UH; however, as early as 1927-28, band became a course for which credit was offered. It was at first open only to male students; practice took place weekly on the benches of the swimming pool locker room.
The Band had about thirty-five to forty members during the 1950s. Richard Lum took over as director of the band in 1960. A trumpet player, Lum had been a choral major at UH in the late 1940s, since at that time a major in instrumental music was still in the future. Lum worked quickly to increase the quality and stature of the program. By 1968, nationally acclaimed artists such as Rafael Mendez, Paul Tanner, and Doc Severinsen appeared with the Concert Band. In 1967, Lum founded the modern marching band, the first UH band also began to increase in size, and by 1972, a second Concert Band appeared in the Spring Concert alongside the first group (now called the Symphonic Band). In the late 1970s, three groups performed regularly: The Symphonic Wind Ensemble, the Symphonic Band, and the Concert Band. When Richard Lum retired, three-fourths of the public school band teachers in Hawaii had been trained under him.
Grant Okamura, also a former band director at McKinley High School, served as Director of Bands from 1985-2009, continuing and expanding on the fine traditions of the Lum era and ushering in several new directions for the UH Bands program. Under Okamura's direction, the UH Wind Ensemble traveled and performed extensively, winning wide accolades, including several invited performances at the College Band Directors National Association (CBDNA) Conference. Okamura and the UH Bands served as host for the first-ever joint conference between the American Bandmasters Association and the Japan Band Directors Association in 1994.